The Tech War for Talent | 6 Tips to Prevent Losing Your Best People
Nathalie H
Last week I caught up with a former colleague who is now a Managing Director in one of the Big 5 management consulting firms. They shared with me that their #1 challenge these days is, in their own words, "the daily battle for talent". "There is a lot of movement, with people moving elsewhere, every day, both onshore and offshore," they continued.
Although certain rates of employee turnover can be healthy, an excessively high turnover rate, caused by employees' voluntary attrition, can become a serious business problem with many implications.
Challenges caused by High Employee Turnover Rates
ORGANISATIONAL KNOWLEDGE | Even when a knowledge transfer process is done properly, a lot of wisdom is lost along the way.
TRAINING – Getting a new member up to speed takes time and energy from their leader and peers.
COST | Often underestimated and overlooked, the overall employee turnover cost goes way beyond simple hiring costs. It involves not only hiring a new team member, but also the time required for the new person to be fully productive. This can take months, depending on the complexity of the role and the number of stakeholders.
CLIENT RELATIONSHIP | Particularly problematic for consulting firms, high employee turnover can create issues for clients when it impacts on project delivery schedule, quality, and the consulting firm's reputation as a quality service-provider.
DOMINO EFFECT – High employee turnover is disruptive. Peers of the person leaving may start to wonder if they should also look for new opportunities elsewhere. Restlessness and discomfort are contagious.
WORKLOAD BALANCING – An unstable workforce often has a negative impact on the team morale, with remaining team members having to pick up the load of the person who left until the role is fulfilled.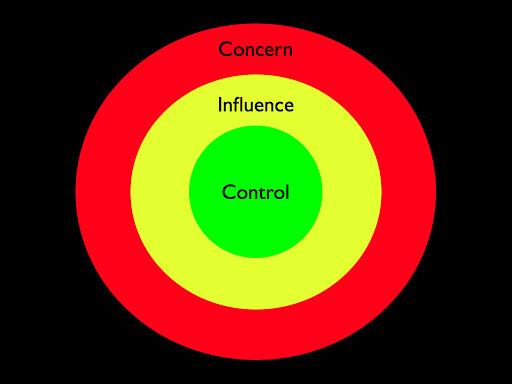 I'm a big believer in prevention versus cure. When an employee communicates their decision to leave, it is often too late to turn things around; so in order to win that battle, leaders must take a proactive approach. Using Steve Covey's model (above) as a framework (one of my favorites ever) here is what we can learn:
What can you control or influence?
There are things that are within our control, which we have the full authority to change. Others we can impact to a certain degree or simply influence. Here is what you can do to prevent your best people from saying goodbye:
6 TIPS
LEADERSHIP STYLE | Become a better people leader – hire a coach or mentor to help you to uncover and address your blind spots! Understand your people's communication/working style and adapt. Understand their strengths, interests, and career aspirations. Be approachable. Be fully present when you are with them. As Simon Sinek said once, "employees quit their managers".
FEEDBACK | Master the art of giving feedback: when done correctly it is a gift. Help your people to grow as professionals and humans. See my list of suggested resources below.
RECOGNITION | Understand your peoples' preferred form of recognition. Nobody feels appreciated with a generic empty statement, such as "Good job!"; and not everyone feels acknowledged with a gift card. To learn more about how to recognise your people and hit the spot, check out The 5 Languages of Appreciation at Work. Take action and recognise your people in their preferred way.
OPPORTUNITIES | People often move towards opportunities to grow and learn something new, so make sure you are in touch with your team members and understand their career ambitions before it's too late. Do not wait for the performance review cycle to do so. Help your people to learn and grow all year round.
HIRING EXCELLENCE | Audit, reflect and improve your hiring process. Check for culture fit. Are you conducting exit interviews to understand why people are leaving? These can give you valuable insights and prevent further turnover.
ENGAGEMENT | Do your best to provide a compelling vision. Offering a clear vision, objectives and goals helps to motivate and inspire employees. Help them to understand their piece in the big picture business puzzle.
What is beyond your control?
CULTURE MISALIGNMENT | Perhaps the culture is no longer a fit for the employee/s leaving. It is better to allow them to find a place they feel they belong.
HIRING MISTAKE | Let's face it. Hiring mistakes do happen, so if that is the case it's better to let them go.
THEY ARE LOOKING FOR A CHANGE | People change and grow apart in relationships – the same happens with companies!
ORGANIC TURNOVER | Every industry has an average healthy employee turnover rate. Find out what the average rate is in your industry and monitor it.
Agree? Disagree? Share your thoughts in the comments below.👇🏼
A special thanks to everyone who voted the poll posted this week here on Linkedin and helped me to expand my thinking around this topic!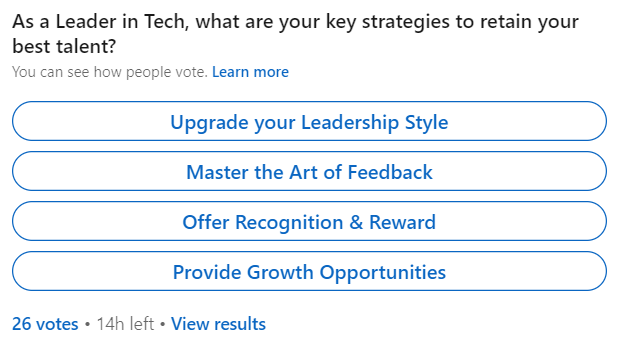 RELATED ARTICLES: